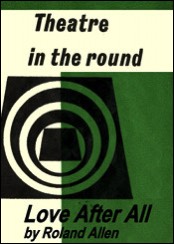 To navigate, use the links in the bar above or in the right hand column.


World Premiere:
21 December 1959

Venue:
Library Theatre, Scarborough

London Premiere:
N/A

Venue:
N/A


Play Number:
2

Published:
No

Other Media:
No


Short Synopsis:
A farce about a man's attempts to woo a miser's daughter through a variety of disguises - eventually being outwitted by and ending up with the maid instead.


Note:
Written under the pseudonym of Roland Allen.
Love After All
has been withdrawn for production and has never been published.


Availability
Amateur:
Not available for production

Professional:
Not available for production


Love After All
Quote

"Minta - what shall I wear? I haven't got any abduction clothes."
All research and original material in the Love After All section of Alan Ayckbourn's Official Website is by Simon Murgatroyd M.A. and copyright of Haydonning Ltd. All other material is copyright of the named copyright holder. Please do not reproduce any material without permission of the copyright holder. For enquiries, email: archive@alanayckbourn.net